SPWA stands for the Saskatchewan Public Works Association. It is an Association of public works officials from municipal agencies across the province as well as companies and suppliers of consulting services, technologies, and equipment used in typical public works areas of responsibility. These areas include road and street maintenance, solid waste collection and disposal, municipal water and wastewater operations, storm water management, transportation, traffic control, fleet maintenance, building and grounds maintenance and other related areas.

The Association strives to promote professionalism in the public works field and provide a network through which members can share and receive useful information. Membership in the association provides an opportunity to meet other public works officials who share common responsibilities and services. The networking and exchange of information can help members improve the efficiency and operations of any local public works department.

____________________________________________________________________________________________________________________________________


SPWA 2016 Annual Conference & Tradeshow





_____________________________________________________________________

Fall CEU Workshop & Casino Night




Click HERE to see pictures of the Fall Operator Workshop
____________________________________________________________________________________________



Click HERE to see pictures of the Equipment Expo & Golf Tournament



____________________________________________________________________________________________

National Public Works Week (NPWW)
May 17 - 23, 2015

Community Begins Here



There would be no community without the quality of life public works provides. There would be no community to police and protect, no public to lead or represent. Public works allows the world as we know it to be. The 2015 National Public Works Week theme "Community Begins Here," speaks to the essential nature of Public Works services in support of everyday quality of life.

CPWA is pleased to announce the CPWA National Public Works Week awards program for 2015. This is the 55th year of celebration for National Public Works Week in North America. Since its beginning in 1960, agencies, municipalities, and regions have used this week to educate and inform the public about the essential role that public works plays in the quality of their community life. Equally important are promoting the choice of public works as a career choice for the working force of the future and recognizing those whose who currently serve in these crucial public roles.


2015 Public Works Week: My Heroes Wear Dirt
Friday, May 15, 2015
By Jeannette Austin, Executive Director of PWABC

Today I want to share something that is very near and dear to my heart: My Heroes Wear Dirt.

My heroes don't wear uniforms with shiny buttons or capes, nor do they have super powers. They do however help protect us every day, and without them there would be no showers, or drinking water and the streets would be overrun by garbage or large potholes.

You will recognize my heroes as the men and women who are often covered head to toe with dirt, working throughout the community. They are the water and wastewater operators who treat my water and wastewater, the skilled transportation and operations workers who make sure the roads are drivable, and the refuse collection drivers who pick up my trash. To their friends they are better known as the Public Works Department. They sweep and clean the streets, clear the snow, pick up fallen trees after a storm, and are often the first at the scene during emergency weather and disaster events. They work long hours, in all weather conditions, to repair water breaks so their communities can turn on the tap.



Public works is the heart of every community. They are the quiet, unassuming heroes who go about their jobs with little to no public recognition. I feel it's time we call attention to the public works employees in our communities for the everyday services they provide that we take for granted. Recognize your Public Works Department! Let them know you appreciate everything they do!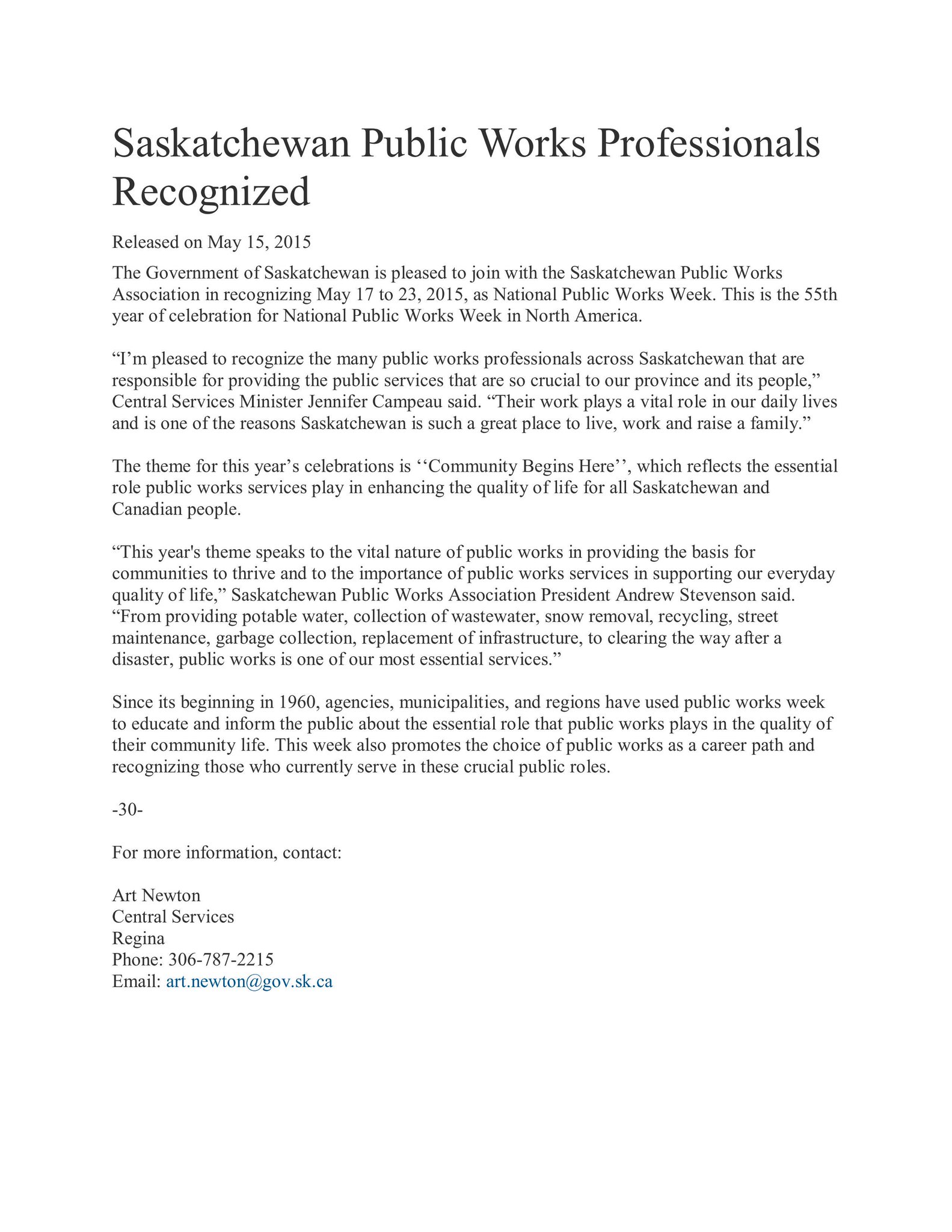 ____________________________________________________________________________________________________________________________________


Roadrunner Magazine


The Saskatchewan Public Works Association, is pleased to provide the Roadrunner Magazine. This trade magazine is specifically targeted to public works practitioners in Western Canada.

Current Issue:

Summer Issue 2015


Past Issues:

Spring Issue 2015



____________________________________________________________________________________________________________________________________
Membership now includes, at no extra charge:

• Registration for live Click, Listen & Learn webinars
• Access to recorded Click, Listen & Learn webinars in the Members' Library
• 24/7 access to recorded educational sessions from past International Public Works Congress & Exposition events in the Members' Library
• Access to e-books in the Members' Library
• Earn CEUs or PDHs from all live or recorded Click, Listen & Learn programs you view with no additional "tracking fee." (No tracking fee for CEUs/PDHs earned from other APWA national events either!)


In addition to the opportunities members have enjoyed for the past 75 years!

• Tap into the experience of more than 28,500 others in public works and public infrastructure (over 2,100 from Canada)
• Get connections to hundreds of corporations that provide products or services for public works
• Receive discounts on top notch live and online educational programs, books, videos, public outreach tools, and other materials
• Promote professional excellence in the public works industry through accreditation programs for public agencies, certification programs for individuals, and career path programs from the Donald C. Stone Center for Professional Excellence
• Support the profession with public outreach programs and the opportunity to be the voice of public works at the national or local level


APWA/CPWA members handle issues in:

• Construction Management
• Emergency Management
• Engineering and Technology
• Facilities
• Fleet Services
• Grounds and Urban Forestry
• Leadership and Management
• Solid Waste
• Sustainability
• Transportation (streets/roads, bridges, signage, and transit)
• Utility and Public Right-of-Way
• Water (potable, stormwater, and wastewater)
• Winter Maintenance


What makes APWA/CPWA different from other professional associations?

"APWA engages the full spectrum of public works professionals, and they're all equal stakeholders. I'm a member of other professional organizations but don't see the rate of return that APWA brings." — Kurt Corey, Director of Public Works, City of Eugene, OR

"What I find by being a member of APWA is its 'one stop shopping'. Other associations can specialize in their areas of expertise, which is great, but what APWA does for me is that I can go to one place and find all the information on any topic I need in the very diverse world of public works." — Brenda Herrman, Director of Public Works (retired), City of Hays, KS

Join today! Visit www2.apwa.net/membership/PickMembership.asp or call 800-848-APWA.


Power Up with APWA/CPWA. The Power of One. The Strength of Many.
____________________________________________________________________________________________________________________________________

Check out our new job postings for the Public Works Field under the 'Resources' tab or follow this link: http://saskatchewan.cpwa.net/resources/employment/
____________________________________________________________________________________________________________________________________